Who Am I?
My name is Tim. I am the founder and leather crafter behind Black Flag Leather Goods.
My interest in Leather working began with a simple love of EDC gear and vintage accessories. I started watching videos on YouTube of crafters making wallets, bags, and belts and was captivated. From there I started lurking in Leather craft communities and message boards. Before long I found myself asking questions and getting inspired. I decided that becoming a leather worker was something I needed to try.
In July of 2020, I ordered a basic leatherworking kit from Amazon and my first order of leather. The quality of the tools was poor at best, but it didn't matter; I was hooked right from the first cut I made.
My first piece looked the same as every leather worker's first: a rectangular bifold wallet made of cheap leather with uneven stitch lines, crooked cuts, and the ugliest saddle stitching you can imagine.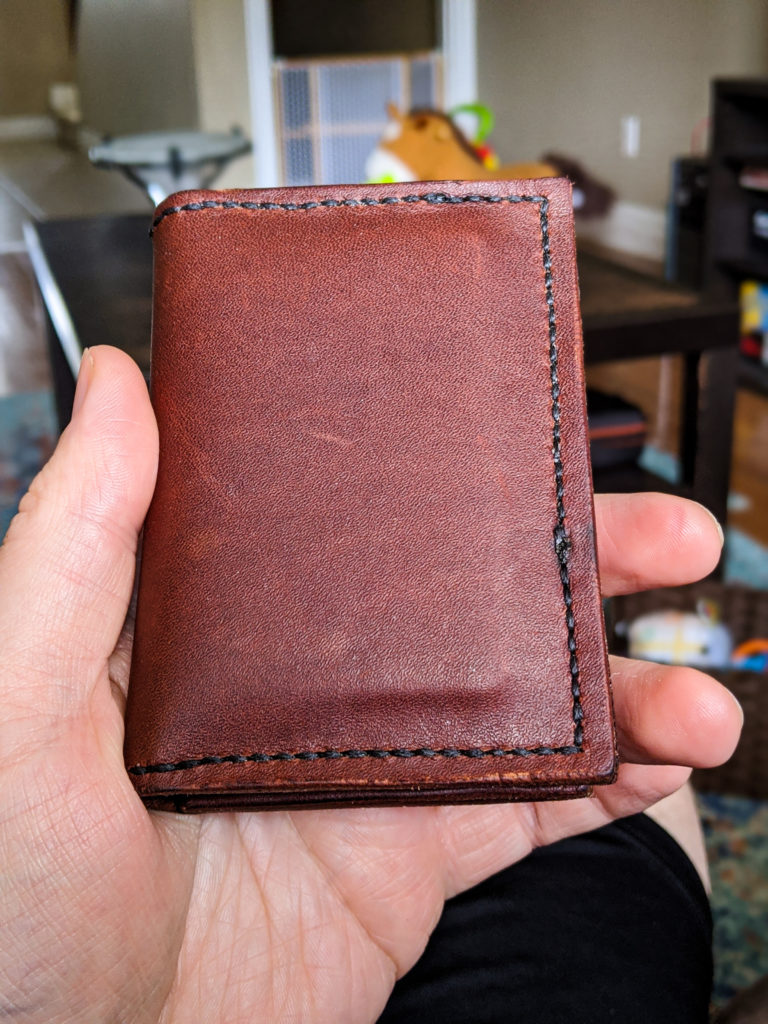 From there, every hole punched, every stitch I've made, and edge burnished has been a learning experience. With the help of an experienced crafter and amazing friend, the quality of each piece I created was noticeably better. Before long, I had people inquiring about my creations.
Sell Leather. Level Up.
I began selling more and more of my products and was able to upgrade my tools as I went. I'd sell a couple wallets or do a custom order then I'd buy some new gear.
I also started to become interested in product photography and YouTube. This is when I started to get in over my head.
Am I a Leather Worker or a YouTuber?
I started my YouTube channel, teaching others what I had learned, giving out my leather designs for free, answering questions, etc. and I immediately felt a sense of belonging. This was what I was meant to do.
I now had a hard choice to make: am I a leather worker who does YouTube or a YouTuber who does leather work? At this point I felt I was pretty clearly the latter.
I officially closed my books and began working to clear out my queue.
I continued to make videos once per week for a full year and managed to get over 2000 subscribers on the channel. I still can't believe it.
Thank You
I feel so incredibly grateful for all the support I've received along the way, from the constructive criticism, to private saddle stitching lessons, to every piece of scrap leather donated to me, to my wife not kicking my ass for having leather spread out across the dining table every time she went to have a meal, to thousands of you tuning into my videos. The whole thing is crazy.
I feel exceptionally fortunate to be doing what I'm doing and I couldn't do any of it with out my supporters.
From the bottom of my heart, thank you.
Tim